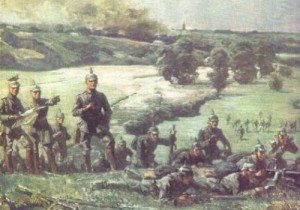 World War One Diary for Monday, August 17, 1914:
EASTERN FRONT
East Prussia: Two Russian forces, the First Army under General Pavel Rennenkampf and General Alexander Samsonov's Second Army, invade East Prussia from the east and southeast, where they are met by General Max von Prittwitz's thinly spread Eighth Army. However, the Russ­ian armies are widely separated, chiefly by the Masurian Lakes, and are lacking in most types of equipment. Prittwitz's troops, although overstretched and outnumbered, act as a delaying force. The German forces inflict a defeat on Rennenkampf's advance guard at Stalluponen, causing 3000 casualties and pushing the Russians back to the East Prussian frontier. The German commander at Stalluponen, General Hermann von Francois, then falls back to Gumbinnen.
SOUTHERN FRONTS
Serbia: Serb 1st Sumadja Division stopped 3 miles (ca. 5 km) from Sabac by entrenched Austrians, but 1st Combined Division captures two villages on Cear Ridge. Austrian 42nd Honved Division from XIII Corps threatens Valjevo to South.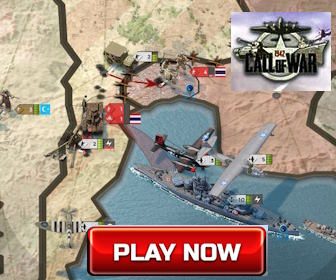 POLITICS
Belgium: Government and Queen transferred from Brussels to Antwerp.
Turkey: Allies guarantee Turkey's integrity in Churchills cable to Enver Pahsa if she observes strict neutrality. Enver does not reply to Admiral Limpus' of Royal Navy Military Mission for conciliatory visit of Churchill.
Ecuador: The government declares neutrality.
SEA WAR
East Africa: British cruiser 'Pegasus' raids Tanga and disables German ship 'Markgraf'.
Japan: Imperial Japanese Navy's first seaplane carrier 'Wakamiya' converted from British-built freighter, an Russo-Japanese war prize.