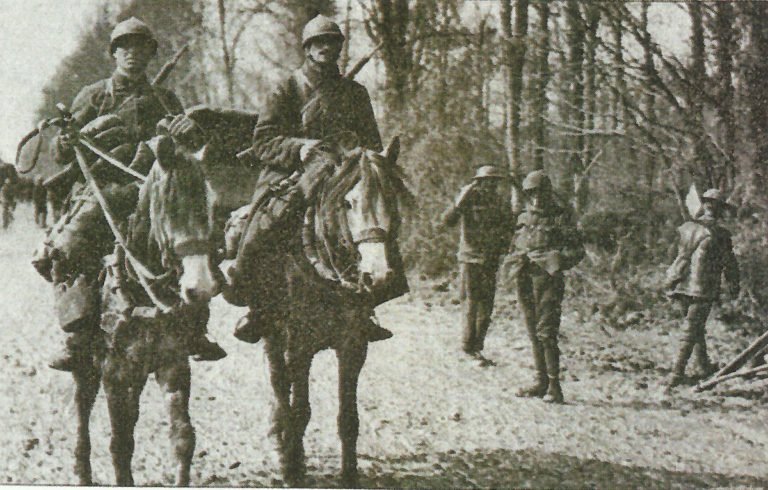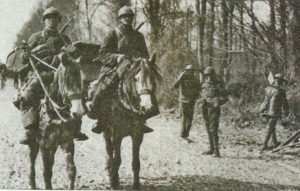 World War One Diary for Tuesday, July 23, 1918:
Western Front
Champagne and Marne: German defence tenacious by 27 divisions in line; French advance on 2-mile front north of river Ourcq, across Lassons-Chateau-Thierry road to reach Faux; south of the Ourcq they advance on Fere-en­-Tardenois, British recapture Marfaux. Foch letter to Petain urges one main thrust on Fere­en-Tardenois.
Somme – Battle of Moreuil or Sauvillers: French 3rd Division (1891 casualties) with 36 British tanks (11 disabled) advance 2 miles on 4-mile front towards Avre valley, capture 3 villages, 1858 PoWs, 5 guns and 275 MGs.
Eastern Front
USSR: Helfferich (ex-Interior Minister) new German Ambassador to Moscow (arrives July 28).
Siberia: Government Council at Omsk proclaims independence, restores Duma and landowners, annuls Red decrees and appeals for Allied recognition on July 25.
Sea War
Eastern Atlantic: U-boat sinks AMC HMS Marmora (100 lives lost) off South Ireland.
North Sea: King George again visits Grand Fleet.
Air War
Western Front: Allied losses over Marne (since July 16) 150 aircraft and 6 balloons to 27 German (since July 15). RAF Sopwith Camel night fighter (Captain A Yuille) forces down a Gotha bomber over Etaples (3 PoWs), first of No 151 Squadron's 26 bomber victims without loss (until November 11).