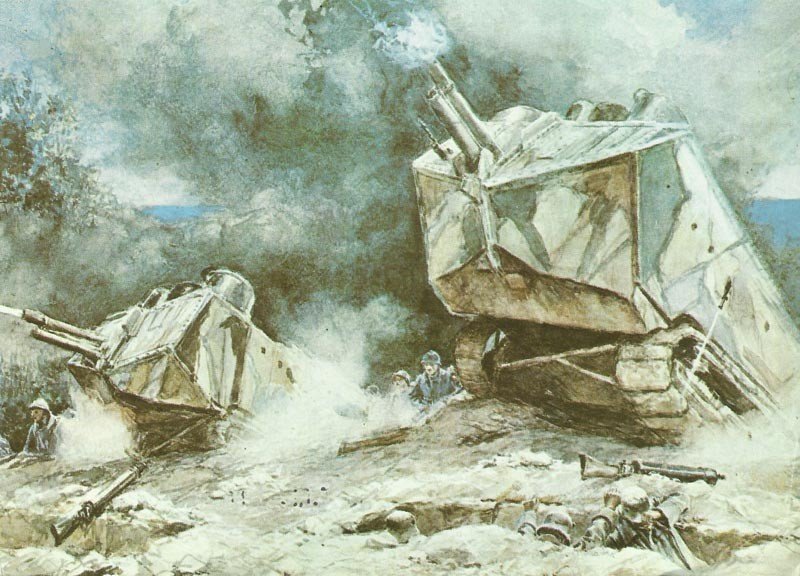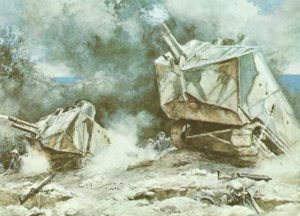 World War One Diary for Tuesday, June 11, 1918:
Western Front
Noyoni-Montdidier: Mangin's 4 divisions and US 2nd and 3rd Division launch flank counter­-attack at 1130 hours without prelim shelling but with 163 tanks (73 lost) and air support, retakes 3 villages, 1,000 PoWs and 19 guns before resistance stiffens.
Somme: Australian 2nd Divison 'peaceful penetration' secures 300 PoWs. Monash submits plan for Hamel's recapture on June 21.
Middle East
Germany: OHL telegram threatens to withdraw all German troops and officials from Turkey if Turk advance in Georgia not halted. Enver threatens to resign, but Seeckt patches up quarrel in July.
Air War
Western Front: Allied close air support for Mangin's counter-stroke leads to heavy air battles; RAF bombing in error causes 8 French wounded and 75 horses killed. Germans claim 40 Allied aircraft for loss of 19 until June 12.
Home Fronts
Turkey: Military and political press censorship abolished to promote Pan-Turanianism and aid attacks on Allies.