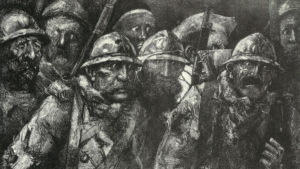 World War One Diary for Saturday, May 19, 1917:
Western Front
France: Several mutinies a day now reported in French Army.
Southern Fronts
Isonzo: Italians evacuate temporary Bodrez Isonzo bridgehead and repulse Austrian night attack on Vodice (night May 19-20).
Sea War
Baltic: 4 Russian submarines sail from Reval on year's first patrol, Bars sunk on May 28 either mined or depth charged off Norrkoeping, Sweden. Second group also has no success. Kerensky speaks at Helsinki naval base (May 23).
Politics
Russia: Government repudiates separate peace, but general one to be without annexations or sanctions.
USA: Government announces regular division going to France.