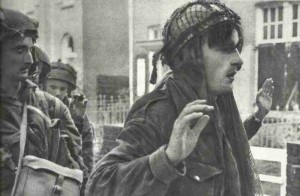 WW2 War Diary for Sunday, September 24, 1944:
Western Front
Renewed efforts to save British airborne forces at Arnhem.
Sea: War
Arctic: Anti-submarine nets foil attempted U-boat attack on Russian battleship Arkhangelsk (ex-HMS Royal Sovereign).
Mediterranean: British Aegean Force (including 7 carriers) lands troops to reoccupy Aegean Islands and mainland of Greece from September 24 – October 31.