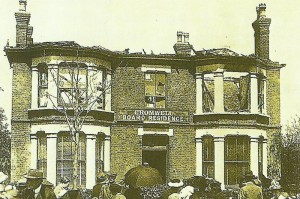 Diary for Thursday, April 29, 1915:
Air War
Britain: First raid by German Army Zeppelin: LZ38 (Linnarz) drops IB's at Ipswich and Bury St Edmunds, Suffolk (opportunity targets); some damage including 3 casualties (night April 29-30).
Western Front
Flanders: Foch asks Sir J French to await result of imminent French attack before withdrawing to new British line. Belgian guns smash 3 German boat bridges across the Yser.
Middle East
Sinai: 100 men of Bikanir Camel Corps inflict 42 casualties on c.250 Turks and Bedouin east of Suez Canal.
Home fronts
Britain: Lloyd George sets limits on alcohol sale and increased duties.