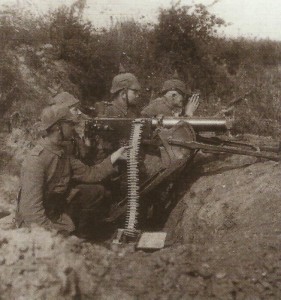 Diary for Monday, April 5, 1915:
Western Front
Meuse-Argonne: French First and Third Armies attack in very bad weather, aiming to flatten out St Mihiel salient. Little progress against MG fire, barbed wire and mud until April 14.
Flanders: Belgians repulsed at Driegrachten.
Eastern Front
Austrian CoS Conrad meets his German counterpart Falkenhayn, proposes peace with Russia to contain Italy.
African Fronts
Tripolitania: Italians' break out from Jebel Nefusa into French Tunisia. Colonel Gian­inazzi's column returns to Mizda in south without baggage, food and ammo.
Home Fronts
Britain: Two German officer PoWs escape from Denbigh (Wales), recaptured on April 11.