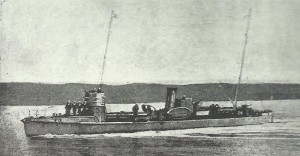 Diary for Sunday, August 22, 1915:
Sea War
North Sea: 2 French destroyers sink German A15 coastal torpedo boat near Ostend (night August 22-23).
Western Front
Vosges: French gains include trenches on Tingenkopf and Barrenkopf.
Eastern Front
Pripet: Austrian Fourth Army occupies Kovel.
Poland: Russians evacuate Osovyets, blow up defenses.
African Fronts
West Africa: Dahomey Rebellion against French (until February 15, 1916).
Home Fronts
Italy: Munition disputes regulations and committees formed.
Russia: Progressive Bloc formed in Duma.