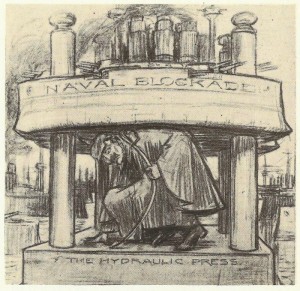 Diary for Friday, February 12, 1915:
Neutrals
Holland: Protest against U-boat blockade (Sweden also on February 15).
Italy: Government notifies Austria that further action in Balkans are an unfriendly act.
China: Government agrees to 12 of 21 Demands of Japan, publishes their full text on February 17.
Air War
Germany: Imperial Order from Kaiser expresses 'Great hopes that the air war against England will be carried out with the greatest energy'. Target list: dumps, military bases, barracks, oil and petrol stores and London docks. Attacks on London's royal residences and residential areas specifically forbidden.
Western Front
French 60th Reserve Division advance near Souain, captures part of Sabot Wood (later lost) but heavy snowstorm prevents artillery observation and postpones major attack to February 16.
1st Canadian Division lands at St Nazaire (­unloading finish on February 15).
Eastern Front
East Prussia: c. 1,500 Russian cavalry men vainly raid across border at Khorzel as Hindenburg occupies Mariampol and other towns
Carpathians: Austrians cross Jablonitsa Pass in the east.