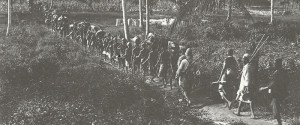 Diary for Saturday, February 12, 1916:
African Fronts
East Africa – Action at Salaita Hill (8 miles from Taveta): Major Kraut's 1,320 German soldiers (43 casualties) repulse Malleson's 6,000 British troops (more than 138 casualties).
Western Front
Champagne: German diversionary attacks, south of Sainte-Marie-a-Py.
Flanders: ­German diversionary attacks near Steenstraate and Boesinghe east of Saint-Die. Germans attack Wissenbuch positions.
Air War
Italy: Austrian air raid on coast.