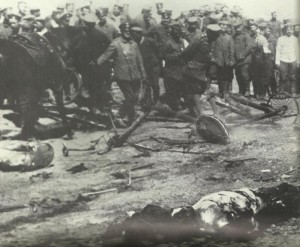 Diary for Sunday, February 20, 1916:
Air War
Western Front: 34 Anglo-German air combats (7 on February 24).
Britain: 4 German seaplanes drop 25 bombs on Walmer and Lowestoft, 2 casualties; 26 defending aircraft ascend.
Western Front
Flanders: Germans make 3 attempts to cross Yser canal near Boesinghe.
Southern Fronts
Bulgaria: Greeks of Xanthus deported.
Italian Front: ­Italian First Army C-in-C General Brusato aware of Austrian Trentino build-up.
Middle East
Armenia: Cossacks and Russian 39th Division storm Abdalcik and Askale from Turk rearguard (until February 22). General Abatsiev reoccupied Tatvan southwest of lake Van.