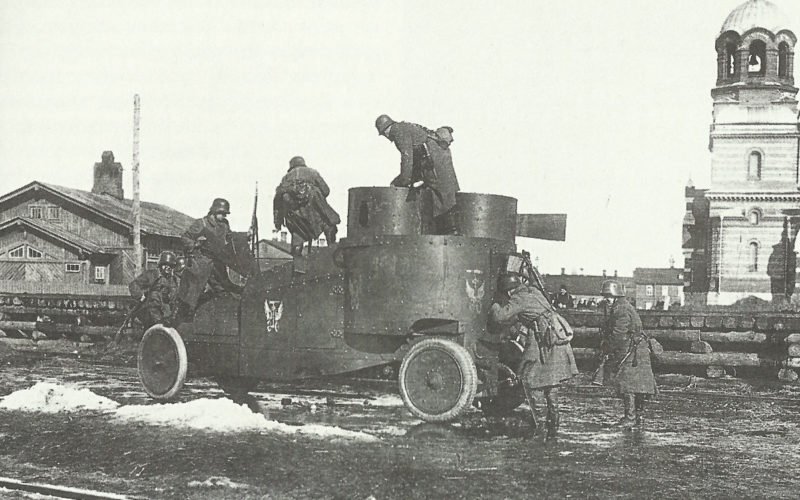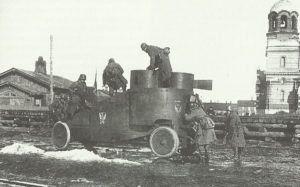 World War One Diary for Monday, February 25, 1918:
Eastern Front
Estonia: Seckendorff's Northern Corps takes Pernau, Reval with 626 guns, and Pskov.
Ukraine: Linsingen reaches Zhitomir.
Poland: Polish­-German Military Convention signed at Bobruisk southeast of Minsk.
Finland: Mannerheim has 14,000 troops as 20,000 Reds attack towards Haapamaki and in Karelia (2000 Whites there).
Middle East
Palestine: Liman replaces Falkenhayn as Turk C-in-C.
Sea War
Baltic: Russians scuttle 11 submarines at Reval to avoid capture, cruiser Admiral Makarov last ship to leave after German cyclists ride in. Red evacuation (5 cruisers, 8 submarines, 12 minesweepers and 31 auxiliaries take 4,000 refugees) despite thick ice.
Air War
Italy: Austrians bomb Venice, Castelfranco and Mestre.
Home Fronts
Britain: Meat (2 oz per adult per week) bacon and ham (4 oz per head per week), butter and margarine (5 or 6 oz per head per week) rationing for London and Home Counties affects 10 million people, German PoWs including from February 26; queues vanish.