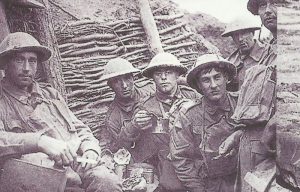 Diary for Wednesday, July 19, 1916:
Western Front
Flanders: British First Army diversionary attack but inept daylight attack at Fromelles (until July 20) fails bloody, new 5th Australian Division has 5,500 casualties.
Battle of the Somme: Germans outflank left flank of South African Delville Wood garrison and compress pocket. German attacks on Longueval, Waterlot Farm and Trones Wood. German Second Army north of Somme becomes new First Army (General F Below), from the Somme to river Cologne (northwest of St Quentin) Second Army (General Gallwitz, latter also Army Group Commander). Royal Navy Division becomes 63rd (Naval) Division.
Verdun: General von Francois replaces Gallwitz (to Somme) in command west of the Meuse.
Middle East
Sinai: Second Turk Offensive against the Suez Canal begins from Oghratina. Stotzingen ordered from Damascus to Beersheba (July 20).
East Persia ­- Action of Gusht Defile (until July 21): Dyer defeats Sarhad tribes­men.
Air WAr
Somme: 30-40 German aircraft seen over BEF Fourth Army front (12 combats).
Sinai: RFC discover 8,000 Turks preparing for offensive (Brig­-Gen E Chaytor GOC NZ Mounted Rifle Brigade was observer on this reconnaissance flight).