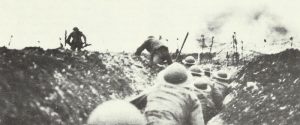 Diary for Thursday, July 27, 1916:
Western Front
Battle of the Somme: British advance in Delville Wood, fighting continues near Pozieres and at Longueval.
Aisne and Cham­pagne: German diversionary attacks.
Middle East
Arabia: Yenbo (Medina's port, including Stotzingen mission to Yemen) surrenders to Emir Abdulla.
Persia: Sykes' 500 men leave Kerman for Yezd.
Occupied countries
Occupied Belgium: Captain Fryatt of liner Brussels shot at Bruges by order of German court-martial for trying to ram U-boat.