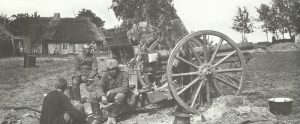 Diary for Friday, July 28, 1916:
Eastern Front
Brusilov Offensive resumes.
Pripet: 250,000 Russians (gas shell barrage on part of sector) against 115,000 Austro­-German troops. Lesch and Kaledin partly cross Upper Stokhod; Guard Army takes 3 villages, 46 guns, 65 MGs and 11,000 PoWs.
Galicia: Sakharov enters Brody (40,000 PoWs, 49 guns and 100 MGs since July 15). Brusilov's Seventh and Ninth Armies attack astride Dniester, former crosses river Koropyets to north (July 31), having taken c. 8,000 PoWs and 33 guns.
African Fronts
East Africa: South African Motorcycle Corps (Deventer's 2nd Division) occupies Dodoma on Central Railway, 100 miles of it in British hands.
Lake Tanganyika: Belgian Southern Brigade occupy Kigoma rail terminus, scuttled gunboat and one gun of cruiser Koenigsberg found.
Air War
Britain: 6 German Navy airships drop 69 bombs over Norfolk and Lines (night July 28-29, no civilian casualties).
Battle of the Somme: Guyne­mer's Nieuport survives 86 hits and an LVG is his 11th victory.
Western Front: 4 Martinsyde Scouts of 27 Squadron successfully bomb (2x112lb, 3x20lb) Mons station; 14 Anglo-German air combats.