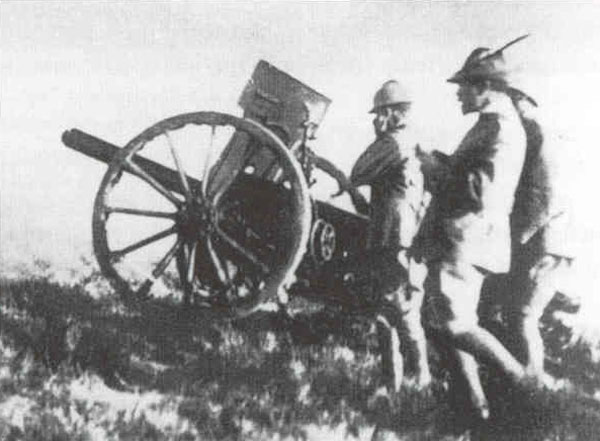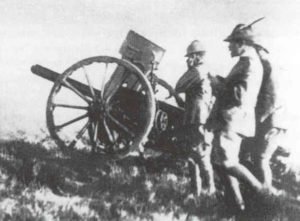 World War One Diary for Saturday, July 6, 1918:
Southern Fronts
Albania – Italian offensive (­until July 14): Ferrero's XVI Corps (53 battalions) with 300 guns (+ 2 Royal Navy monitors) attacks north of its Valona entrenched camp and to east, crosses river Vojusa and General Nigra's cavalry capture Fieri (July 8), 20 miles northeast, and Austrian Brigade HQ of Berat (July 10). 10-mile advance on on 60-mile front also gains 2000 PoWs, 26 guns and 6 aircraft for 850 casualties, but malaria subsequently creates havoc; French 57th Division conform in Devoli valley taking 700 PoWs.
Air War
Albania: RAF drop 3t bombs and fire 3,000 MG rounds in support of Italian offensive (1 DH9 lost), but fail to hit Kuchi bridge (hit twice on July 8).
USA: First flight of first Americanized Handley Page 0/400 bomber.
Eastern Front
USSR: German Ambassador Count Mirabach murdered at Moscow by Left Socialist Revolutionary bomb. Left Socialist Revolutionary rebel against local Reds, besiege Lenin in Kremlin ('Comrade, can we hold out until morning?') and in Petrograd. Savinkov rebels against Reds at Yaroslav north of Moscow (until July 21) but Red Army retakes town using artillery and poison gas (apparently).
Siberia: Vladivostok declared under Allied protectorate. President Wilson unilaterally suggests 12,000 Japanese troops for East Siberia to rescue Czechs.
Trans-Caspia: Anti-Red 'Turkestan Union' obtain 2 million roubles from British Colonel Redel at Meshed which General Malleson reaches on July 16, sends 250 troops to border (July 19-24).
Sea War
Northern Adriatic: Italian submarine F12 torpedoes and sinks Austrian U-20 off Tagliamento estuary.