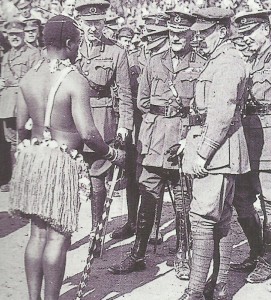 Diary for Monday, June 14, 1915:
African Fronts
Southwest Africa: Botha's final advance to the north begins, occupies Omaruru on June 20 and detaches 2 mounted brigades to cut off the Germans by June 27.
Western Front
Artois: French novelist Jules Leroux disappears in action, aged 34, at Neuville St Vaast.
Eastern Front
Galicia: English novelist Hugh Walpole helps tend 800 wounded soldiers in 12 hours, develops dysentery by June 30.