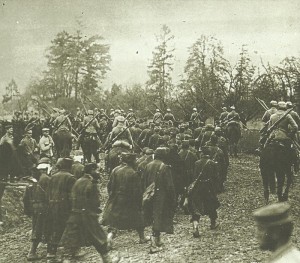 Diary for Friday, June 18, 1915:
Western Front
Artois: Second Battle of Artois ends at Foch's bidding, 25 square miles 'liberated' (official date but heavy clashes continue, French XXI Corps losses 18,000 men by June 20).
African Fronts
Eastern Tripolitania: Tarhuna's 3 Italian battalions wiped out in breakout 40 miles (ca. 64 km) south of Tripoli; 2 relief columns foiled.
Sea War
Adriatic: Austrian squadron shells Fano.
Home Fronts
Britain: Two Glasgow iron ore merchants jailed for trading with Krupps.