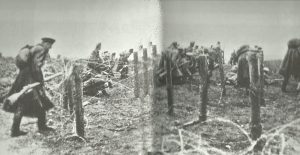 Diary for Sunday, June 4, 1916:
Eastern Front
BRUSILOV OFFENSIVE (until October 17) begins on 200-mile front with 1,938-gun shelling at 0400 hours. Russian Eleventh and Ninth Armies take 26,000 PoWs and more than 14 guns.
Western Front
Verdun: Fresh German attack at Fort Vaux which sends back c.100 men to save water and supplies and last carrier pigeon. Vosges: 3 lines of French Casspach trenches taken and retaken.
Sea War
Adriatic: Italian submarine Atropo sinks Austrian Lloyd SS Albanien (1,122t) without warning. French flotilla pursuing two U-boats believed to be homeward bound for Cattaro stop at Otranto Barrage patrol boundary and leave 2 Italian destroyers to continue pursuit.
North Sea: 3 German destroyers north of Zeebrugge briefly engage British ones.