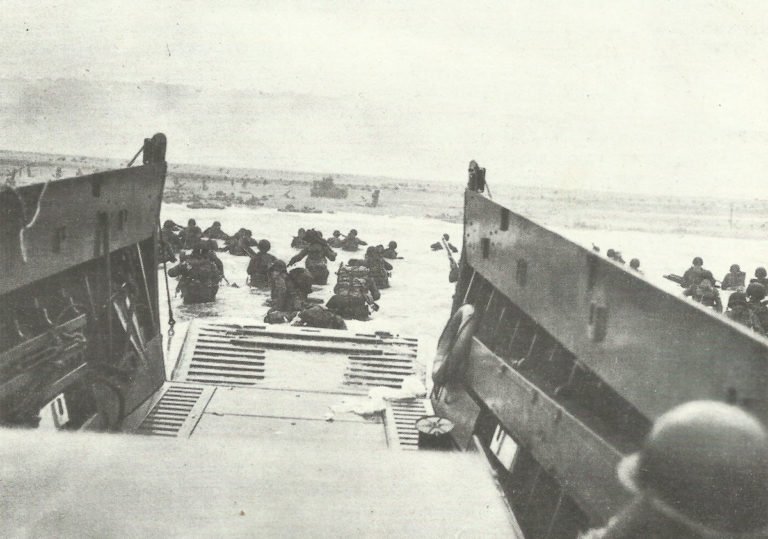 World War One Diary for Tuesday, June 6, 1944:
Sea War
D-DAY – ALLIED INVASION OF NORMANDY (Operation Overlord): Operation Neptune amphibious phase of Overlord. At dawn 50 convoys begin landing 5 divisions of Allied Expedition Forces (US, British and Canadian troops) on 'Utah', 'Omaha', 'Gold', 'Juno' and 'Sword' beaches.
3 escort carriers, 16 Support Groups and 2 destroyer squadrons scour Western Approaches to the Channel for U-boats.
Pacific: 3 Japanese destroyers sunk by US submarine Harder (June 6-8).
Western Front
Normandy: AEF (Allied Expedition Forces) meets slight resistance, except on 'Omaha Beach' where 1st US Infantry Division suffers severe losses. 21st Panzer Division counter-attacks' between 'Juno' and 'Sword' late in the day.
Air War
Western Europe: Allied Air Forces fly 14,674 sorties over Normandy up to midnight June 6-7 (Luftwaffe flies c. 100 sorties). RAF Coastal Command maintains continuous patrols over eastern and western approaches to English Channel. 250 gliders land reinforcements and supplies for British 6th Airborne Division.
Occupied Territories
France: De Gaulle broadcasts to French people.
Home Fronts
Britain: The King broadcasts.
Romania: Death of Colonel Josef Beck, ex-Polish Foreign Minister; aged 49.
[tableX caption="D-Day Forces" colwidth="25|25|25|25″ colalign="left|center|center|center"]
, British and Canadians, US, Germans
Battleships, 7 (incl US), =, –
Cruisers, 23 (incl US), =, –
Destroyers, 105 (incl US), =, –
Landings ships and crafts, "4,126 (incl US), =, –
Auxiliary ships, 736 (incl US), =, –
Merchantmen, "864 (with 195,701 sailors; incl US)", =, –
Heavy bombers, "3,467 (incl US)", =, –
Medium bombers, "1,645 (incl US)", =, (incl in fighters)
Fighters, "5,409 (incl US)", =, 345 (incl bombers)
Transport planes, "2,355 (incl US)", =, –
Gliders, 867 (incl US), =, –
AIRCRAFTS TOTAL, "13,743 (incl US)", =, 345
Ground troops, "75,215", "57,500", "c. 50,000 (5 divisions)"
Airborne troops, "7,900", "15,500", –
Armored Vehicles, 900, ?, 100
Guns, 600, ?, c. 250
[/tableX]