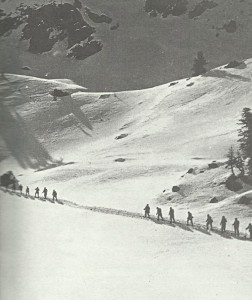 Diary for Monday, March 13, 1916:
Southern Fronts
Italian Front: Italian 21st Division gains one hump of Mount San Michele.
Salonika: French 243rd Brigade (122nd Division) begin skirmishing advance up Vardar to frontier, drives German patrol from Machukovo village on March 16. British 7th Mountain Brigade add to line just south of lake Doiran by March 31.
Eastern Front
Russia: STAVKA sends today 504 telegrams with 52,814 words.
Air War
Verdun: Guynemer wounded at one arm by Aviatik machine-gun fire and barely returns to base; out of action 3 months.
Now 6 French fighter escadrilles; 36 aircraft nominally in sector, as French gaining air superiority.