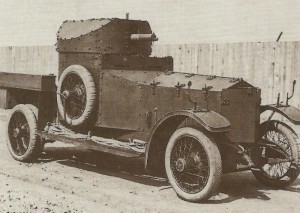 Diary for Tuesday, March 14, 1916:
African Fronts
Western Desert – Major-General Peyton reoccupies Sollum: 10 armoured cars storm Senussi camp 20 miles in the west, take 3 guns, 9 MGs and 40 PoWs including Turk officers. 9 armored cars rescue 97 mainly Royal Navy PoWs, c.115 miles east of Sollum on March 17.
East Africa: Deventer's South African Mounted Brigade occupy Moshi and contact 1st Division which has advanced 60 miles.
Western Front
Verdun: French repulse heavy attack between Bethincourt and Cumieres after German shelling since March 12, but Germans gain foothold on Mort Homme lower ridge (Hill 295). French success there following day.