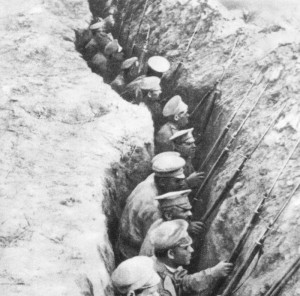 Diary for Sunday, March 19, 1916:
Eastern Front
Galicia: Russian success northwest of Uscieczko bridgehead on river Dniester (until March 21).
Middle East
Egypt: Murray succeeds Maxwell as C-in-C after 2-day conference on Kut at Ismailia and Cairo. MEF and garrison renamed EEF on March 20.
South Persia­: Russians drive small German party from Isfahan.
African Fronts
East Africa: Royal Navy occupy Yambe island and Ulenge island (March 22), shells Tanga on March 22.