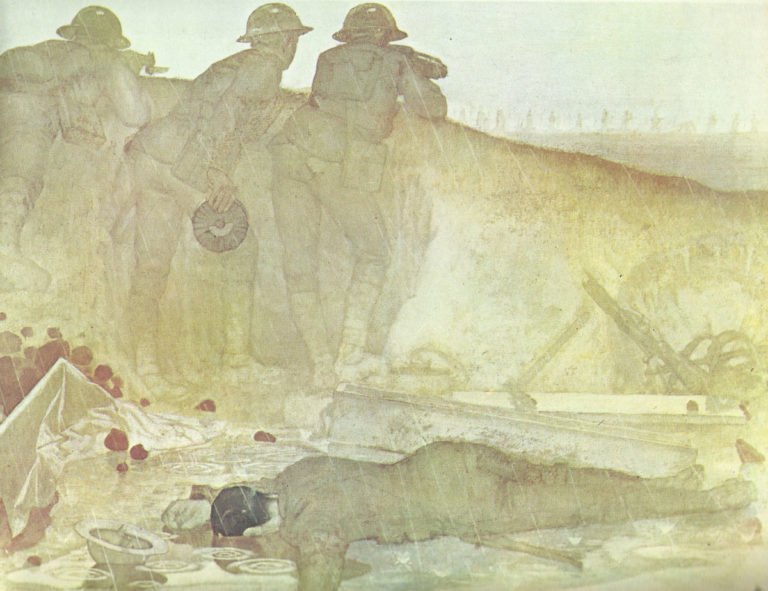 World War One Diary for Thursday, March 21, 1918:
Western Front
Somme – SECOND BATTLE OF THE SOMME AND GERMAN SPRING OFFEN­SIVE begins: German Michael Offensive (or 'Kaiser Battle') (until April 5) against BEF. Ludendorff aims to cut off British from French between rivers Oise and Scarpe.
Battle of St Quentin (­until March 23): German main attack against British Fifth Army (Gough) on 42-mile southern sector from Gouzeaucourt to Barisis, south of La Fere. German Northern attack on British Third Army (Byng) by 25 divisions of Seventeenth (Below) and Second Armies.
5 hour German bombardment by record 6,473 guns and 3,532 mortars on 43­-mile front vs 2,500 British begins at 0440 hours, shelling 20 miles behind, causing up to 7,500­-8,000 casualties. Lavish use of Blue and Green Cross gas shells is expected to paralyse British artillery (2 million gas shells expended by April 6). German stormtroopers attack in dense mist at various points between 0700 and 0930 hours and advance up to 4 1/2 miles; meet fierce battle zone resistance. Germans advance to Crozat Canal southwest of St Quentin. First of Gough's reserve divisions in evening action. First 9 German tanks in action.
For 39,929 casualties Germans inflict 38,512 casualties (including 21,000 PoWs), take 532 guns, 46 ruined villages and 98.5 square miles of ground more than Allied 1916 Somme offensive in 141 days.
Artois – British gas attack at Lens: 3,728 projectors fire 57t phosgene; 700 gassed (150 deaths).
Champagne: German attack between Maisons de Cham­pagne and Navarin; hand-to-hand fighting in French forward trenches. Mustard gas attack on US 42nd Division.
Sea War
North Sea – Destroyer action: HMS Botha (from Dunkirk) rams and sinks German coastal torpedo boat A7, one of 2 and 5 destroyers shelling Dunkirk. HMS Morris sinks disabled A19 after pursuing remainder back to Ostend which Dover Patrol monitors shell.
Air War
Western Front: On Michael sector of attack 720 German aircraft (326 fighters) vs 579 Royal Flying Corps (261 fighters) in 31 squadrons. Udet designated commander Jasta 11 succeeding Lothar von Richthofen. Total German front line strength 3,668 aircraft. Fog hinders early air operations but 36 RFC squadrons see action by end of day losing 16 planes for 14 claimed crashed kills (Germans admit 11 loss and claim 21 Allied planes). British lose 3 observation balloons. 27 German Schlachtstaffeln (168 ground-attacker planes) attack British Third and Fifth Armies.
Home Fronts
Britain: Miners under age 25 lose military service exemption (to recruit 50,000).
USA: Railroad Control Act gives Federal control until 21 months after peace ratification.