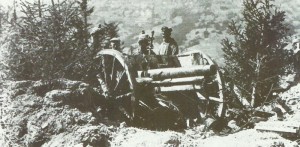 Diary for Sunday, May 30, 1915:
Eastern Front
Galicia: Austro-Germans shell Przemysl forts; American cameraman John A Everets films it.
Western Front
Flanders: German attack at Hooge.
Artois: French gains near Souchez.
African Fronts
Southeast Cameroons: 400 France-Belgians take river Monjo position until June 1.
Lake Nyasa­ – Sphinxhaven Raid: 2 Royal Navy steamers land 180 men of King African Rifles on east side of lake. They storm the fort and blow up stern off gunboat Hermann von Wissmann.
Air War
Adriatic: Italians first time bomb Pola.
Home Fronts
Ireland: Casting vote vetoes Irish volunteers' immediate revolt proposal.