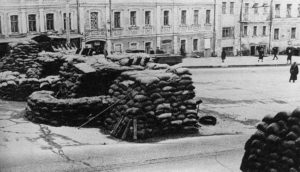 WW2 War Diary for Thursday, October 16, 1941:
Home Fronts
Russia: 'MOSCOW PANIC'. Russian Government and the Diplomatic Corps leave for Kuibyshev on the Volga (Stalin remains in the capital).
Neutrals
Vichy France: Petain imprisons Reynaud, Daladier, Blum, Mandel (the Jewish ex-Minister of the Interior) and General Gamelin.
Japan: Prime Minister Prince Konoye resigns after Cabinet divides over negotiations with USA.
Secret War
Japan: Richard Sorge, Soviet master spy on close terms with German embassy in Tokyo, arrested by Japanese authorities; hanged November 7, 1944.