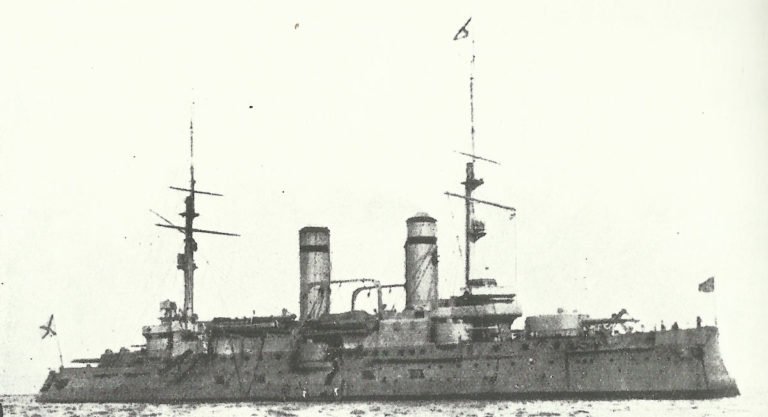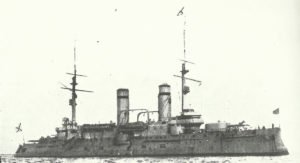 World War One Diary for Wednesday, October 17, 1917:
Sea War
Baltic – Gulf of Riga 27-minutes battleship action: Russian battleship Slava damaged (3 hits) by Koenig and Kronprinz, goes aground and later scuttled west of Papilad island. Battleship Grashdanin (ex-Tsesarevich) retires north damaged (2 hits).
North Sea: Fast German cruiser-minelayers Bremse and Brummer surprise and destroy British-escorted Bergen­-Lerwick-Britain convoy 65 miles east of Shetlands. Destroyers Mary Rose (Fox) and Strongbow fight suicidal delaying action (135 lost, survivors fired on) while 3 British merchant ships escape; 9 Scandinavian ships sunk in 2 hrs 20 mins. No radio warning got off, 30 Royal Navy cruisers and 54 destroyers at sea, but powerless.
Atlantic: US transport Antilles (67 lost) sunk by U­-boat.
Eastern Mediterranean: British hospital ship Goorkha damaged by mine off Alexandria.
Eastern Front
Baltic Provinces: German landing on Dagoe island repulsed but Marines succeed on October 19 and secure on October 20 together with Schildau island.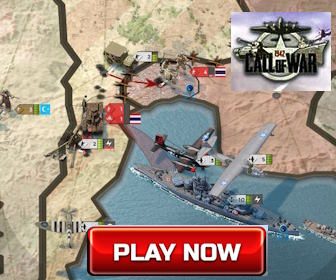 Afrika
East Africa: O'Grady's Linforce a mile from Nigerian Brigade as both sides retreat after ferocious, confused, close-quarter fighting. British lose 2,348 casualties (528 Nigerians), 1 gun and 9 MGs plus over 352 carriers. Lettow loses 519 men and abandons Königsberg gun. British claim 918 PoWs alone from October 15-18.
Air War
Germany: 8 DH4s of No 55 Squadron (41st Wing) RFC bomb Burbach works, near Saarbruecken (and on October 25), works and houses damaged (14 casualties).
Eastern Mediterranean: Turk air reconnaissance finds no Cyprus preparations for British landing in Gulf of Alexandretta.