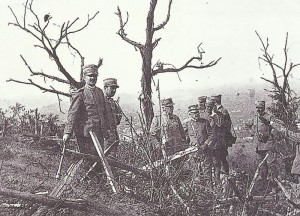 Diary for Monday, October 18, 1915:
Southern Fronts
Italian Front – Third Battle of the Isonzo (until November 4): Cadorna deploys 19 divisions (5 in reserve) and 1,250 guns (1 million shells collected for 3-day barrage) against 11 Austrian divisions with 604 guns. Italian Second Army storms Mt Sabotino only to lose it to prompt counter-attack. Italian Third Army almost reaches Mt San Michele summit, but stubborn Austrian resistance with ample MGs restricts attackers to miniscule gains.
Dolomites: Italian 2nd Division attacks in 3 sectors with minimal gains until October 25.
Serbia­: Mackensen launches general attack and drives Serbs off river Ralya line until following day. Serbs evacuate Ovchepoyle frontier region until next day after Bulgar advances to North and South take Kocam and Veles (by cavalry).
Eastern Front
Pripet: Denikin's 4th Division takes Chartorysk and 4 guns on river Styr from German 14th Division in Brusilov's 4-division counter-stroke, but Germans take Kolki to West on October 22. Fighting on Oginski Canal on October 23.
African Fronts
Rhodesia: 300 BSA police relieve Belgians (last leave on November 3) but Fort Saisi evacuated and demolished until October 30. German raiders engaged near Fife on October 20.
East Cameroons: General Aymerich arrives at Dume to lead 1,450 French soldiers.
Home Fronts
Britain: Attorney-General Carson resigns over Serbia.