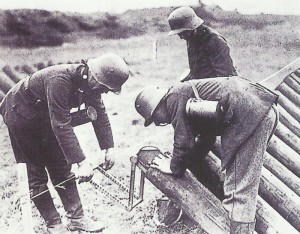 Diary for Tuesday, October 19, 1915:
Western Front
Champagne: German 10­-mile wide gas cloud attack (500t chlorine/phosgene mix) on Fort Pompelle near Reims. Total French gassed: 5,096 (815 dead).
Loos: Unsuccessful German counter-attacks at Quarries, Hulluch and Hohenzol­lern Redoubt. No penetrations of British line.
African Fronts
British East Africa HQ empow­ered to deal direct with South Africa.
Senegal: Natives liable to conscription (extended on September 29, 1916).
Politics
RUSSIA AND ITALY DECLARE WAR ON BULGARIA (as did Zanzibar the day before).
Home Fronts
Serbia: Government leaves Nis for Prisrend.
Britain: John Buchan's The Thirty-nine Steps published.