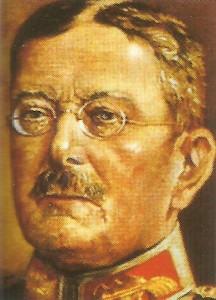 Diary for Sunday, October 24, 1915:
Middle East
German general Goltz relinquished First Army (Thrace) for Sixth (Mesopota­mia and Persia).
Mesopotamia: London allows Nixon to continue advance, partly to influence Persia; Indian Corps to come from France.
Arabia: ­McMahon's letter to Sherif Hussein concedes most boundaries but Hussein's reply from November 5 wants also Aleppo and Beirut.
Western Front
Haig diary: ' .. it was not fair to the Empire to retain French in command', tells King so.
Champagne: French troops capture 'La Courtine' southeast of Tahure (Butte du Mesnil Salient), unsuccessful German counter­attacks (October 25 and 30).
Eastern Front
Baltic Provinces: German Eighth Army repulsed on Lower Aa but takes Dahlen island (Dvina) within 10 miles of Riga, more fightings on October 25-28.
Southern Fronts
Bulgarian troops have cut off Serb main armies from French.
Neutrals
USA: Two German agents arrested, charged with conspiracy to destroy munitions ships leaving New York.