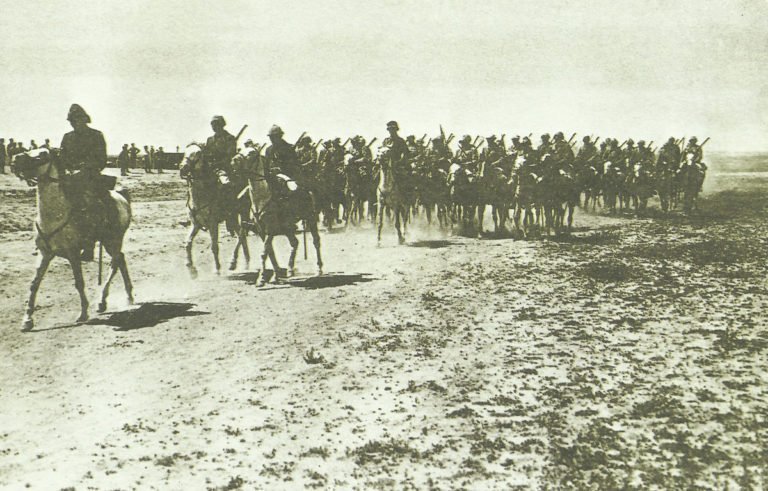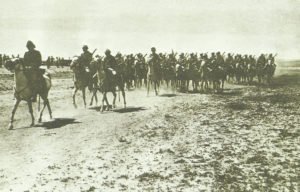 World War One Diary for Monday, October 28, 1918:
Middle East
Mesopotamia – Battle of Sharqat (until October 30): 1/7th Gurkhas ferried over to Cassels after 33­-mile march in 21 hours as he fights 6,000 Turks and 24 guns from Mosul.
Western Front
Scheldt: British 51st Division captures Mont Houy south of Valenciennes but driven back to southern slopes, 3 German divisions counter-attack (until October 29).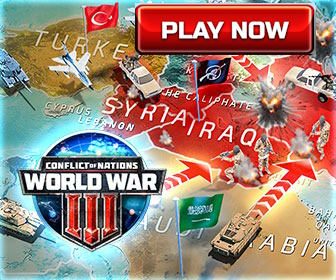 Southern Fronts
Serbia: Serbs reach line Uzice-Arandelovac-Pozarevac.
Albania: Italians enter Alessio.
Bulgaria­: British 22nd Division lands at Dedeagach (sailed from Stavros) from 17 destroyers (after 2 bad weather post-pone­ments) for invasion of European Turkey 10 miles away, transport and cavalry arrive on October 30 after gruelling overland march. French Army of the Danube formed under Berthelot (until January 25, 1920).
Piave: Italian XVIII Corps reinforces Anglo-Italian Papadopoli bridgehead, taking 3,000 PoWs, 7 guns and 150 MGs with aid of British barrage. Austrian Sixth Army orders retreat at 2030 hours after Italians join up the 3 bridgeheads and are up to 4 miles from river. King watches operations from Montello. Austrian Armistice Commission meets. Boroevic tells Emperor Charles situation 'untenable' (night October 28-29).
Sea War
North Sea – Final U-boat sortie: Flanders Flotilla coastal submarine UB-116 (Emsmann) with volunteer crew undertakes 'suicide' mission vs Grand Fleet flagship Queen Elizabeth (erroneously believed lying at Scapa). Raider destroyed in electrically­-controlled minefield.
Adriatic: German personnel evacuate Pola, Cattaro ones sail (October 30), scuttle 10 U-boats there and at Fiume (until November 1).
Air War
Western Front: 3 Fokker fighters (2 lost) intercept DH9s (1 lost) over Mons and RAF No 205 Squadron bombs Namur (until October 30).
Politics
France: Allied armistice Conference in Paris (until October 30).
Austria: Galicia severed from Empire. Czech National Council at Prague takes over internal administration. CZECHOSLOVAKIA INDE­PENDENT.
Home Fronts
Germany: Kaiser signs amended constitution, says '… (his) office is one of service to German people', but at Hindenburg's request returns to Spa by train on October 29 refusing to meet Prince Max.
Austria: ­Agram military command surrender to Yugoslav Council.
France: BEF march past in liberated Lille (Churchill present).
Canada: 5th War Loan.