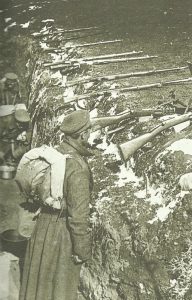 Diary for Tuesday, September 12, 1916:
Southern Fronts
Macedonia: Allied offensive begins on west flank at 0600 hours. Serb First Army captures foothills of Mt Kajmakcalan ('butter-churn'; 8,284 ft) 25 miles east-south-east of Monastir. Bulgars occupy Kavalla port. French 156th Division attacks west to Florina, 6 miles east by September 17.
Western Front
Battle of the Somme: After 6-day delay (bad weather and muddy ground) French Sixth Army resumes offensive after Allied bombard­ment opens at 0600 hours: 'Good progress' reported with Bois d'Anderu and Bouchavesnes captured on Bapaume-St Quentin road.