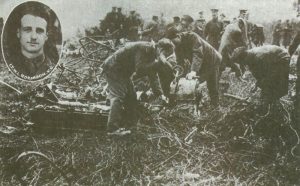 Diary for Saturday, September 2, 1916:
Air War
Britain: Combined raid on London by 12 Navy and 4 Army Zeppelins thwarted by adverse weather, navigational and technical problems; c. 16t bombs scattered across 11 counties and North London suburbs (only 16 casualties). At 0223 hours Second Lieutenant Leefe Robinson (awarded VC, first in Britain) in BE2 of No 39 Squadron Royal Flying Corps shoots down Army SL 11 (Schramm) at Cuffley, Herts (all 16 crew killed).
Occupied Belgium: 17 RNAS aircraft drop 82 bombs on Ghistelles airfield southeast of Ostend (repeated September 9 and 23), St Denis Westrem attacked by 18 aircrafts (September 7), as well as Zeppelin sheds near Brussels (September 27).
Western Front
Battle of the Somme: Rawlinson inspects British Tank Mk I force and is dissatisfied with readiness.
Middle East
Egypt: Commanding general and McMahon confer on Arab Revolt at Ismailia.
Arabia: Turk Berne Legation press release denigrates Sherif's revolt, most Arabs fighting for Sultan.