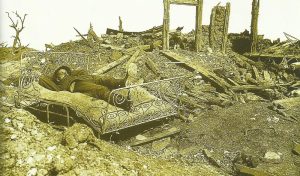 Diary for Friday, September 22, 1916:
Western Front
Battle of the Somme: Battle of Flers­-Courcelette ends. British advance east of Courcelette on fine sunny day. Robertson and Rawlinson take tea; GIGS intimates that Lloyd George concerned about casualties toll and Haig's direction of battle.
Middle East
Arabia: Ghalib Pasha's 2,000-Turk Taif garrison surrenders to Abdulla.