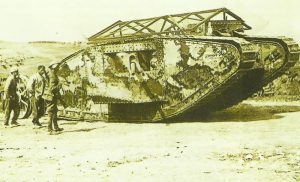 Great War Diary for Monday, September 25, 1916:
Western Front
Battle of the Somme – Battle of Morval (­until September 28): Allied attack at 1235 hours. British with 2 tanks capture Lesboeufs and Morval and almost surround Combles. Slight French Sixth Army advance at Rancourt (captured), Les Priez Farm and Fregicourt (until September 26).
Air War
Somme: RFC 4th Brigade helps silence 34 German batteries. 1st Brigade (17 aircraft) hits 2 troop trains, Libercourt station (Douai­-Lille main line) and 2nd Brigade Lille station (night September 25-26).
Britain: 6 of 9 Zeppelins drop 127 bombs on Lines, Yorks and Lanes (74 casualties night September 24-25). L31 (Mathy) scouts Portsmouth.
Neutrals
Greece: ­Venizelos and Admiral Koundouri­otis sail for Crete (rebelled September 24) escorted by French torpedo boat; form provisional government (September 29).
Home Fronts
Britain: British Army Council requisitions leather.
Ireland – Easter Rising: ­W B Yeats writes 'Easter 1916' poem.