World War One Diary for Monday, July 20, 1914: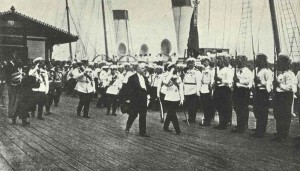 POLITICS: RUSSIA
Tsar welcomes French President Poincare at Kronstadt naval base west of St Petersburg, evening banquet at Peterhof Palace.
POLITICS: FRANCE
Mme Caillaux (wife of Finance Minister) tried and acquitted (until July 28) for murder of Figaro editor on July 16.
POLITICS: SOUTH AFRICA
Gandhi leaves for India after farewell letter.