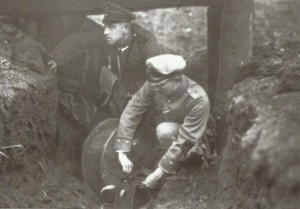 War Diary World War One for Saturday, December 19, 1914:
Western Front
Flanders: Indian Corps (1,672 casualties) heavily engaged by German counter-attack with mining near Cuinchy and Givenchy until next day.
Somme: French repulse attack near Lihons.
Argonne: Sarrail's Third Army attacks astride Meuse, minuscule gains for nearly 12,216 casualties.
Middle East
Armenia – First big fall of snow . Enver issues orders for complex enveloping offensive.
Sea War
Britain: Fisher proposes fast lightly armored 15-inch-gun battlecruiser class to DNC (model by December 24, builders chosen on December 29, keel laid January 25, 1915). Ships become Renown and Repulse.
Air War
Occupied Belgium: Allied aircraft bomb Zeppelin sheds at Brussels (RNAS repeat it on December 24).