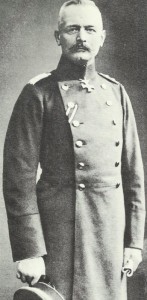 War Diary World War One for Thursday, January 21, 1915:
Home Fronts
Germany: Lt-Gen Hohen­born replaces Falkenhayn as War Minister. Admirals Müller's diary: 'Kaiser obviously terrified by the thought of a long war'.
Britain: Interned vessels to be used in coastal trade.
Western Front
Champagne: French troops seize woods at Beausejour, but are forced back in Bois-le-Pretre.
Middle East
Dardanelles: Fisher to Jellicoe: 'I just abominate the Dardanelles operation, unless … it is … 200,000 men with the Fleet'.
Sea War
North Sea: U7 (König) torpedoed (only 1 survivor) and sunk in error by U22 (Hoppe) off Dutch coast (signals failure).
Politics
USA: British Washington Ambassador announces that SS Dacia, if captured, will be placed in a prize court.
Britain: H Samuel reports to British Cabinet on possible Jewish Palestine.