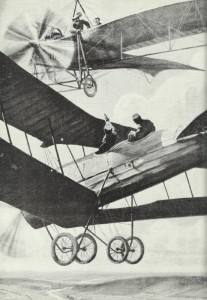 War Diary World War One for Friday, January 22, 1915:
Air War
Occupied Belgium: RNAS drops 27 bombs on Zeebrugge U-boat base.
France: 12 German BAG aircraft bomb Dunkirk, but RFC 4 Squadron shoot down 1 Albatros B type with rifle fire.
Western Front
Argonne: Heavy fighting at Fontaine Madame and St Hubert.
Middle East
Syria: Cruiser HMS Doris gives food to Ruad Islanders, landing party cuts telegraph line at Alexandretta on January 25.
African Fronts
East Africa: Kitchener forbids offensive operations, coast area evacuation begins on January 29.
Home Fronts
Britain: Heavy snow in London.
Germany: Kölnische Zeitung publishes Russian atrocity story.