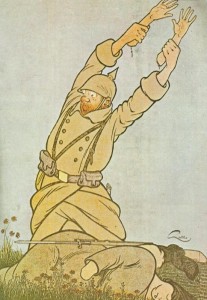 War Diary World War One for Friday, January 8, 1915:
Home Fronts
Britain: The Times publishes prelimi­nary report on alleged German atrocities in France.
Tea export ban lifted.
France: Report on alleged Bavarian Vosges atrocities.
Western Front
Aisne – Battle of Soissons (­until January 14): after 110-gun shelling for 90 minutes Maunoury storms Hills 132 and 138 by January 10.
Champagne – Second Battle of Perthes: French 34th Division captures village, repulses counter-attack on next day and advances north on January 10.
Eastern Front
Germany: Kaiser overrides Falkenhayn, orders forming of Südarmee (Linsingen's 3 German divisions plus Austrians = c. 48,000 men) to support Austrian troops.
Middle East
Britain: Kitchener backs Dardanelles attack but offers no troops.
African Fronts
Lake Victoria: British troops occupy Shirati and organize flotilla.