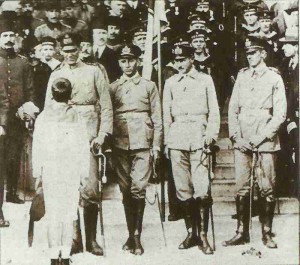 War Diary World War One for Saturday, January 9, 1915:
Middle East
Yemen: SS Choising (with 50 survivors of German Light cruiser Emden) calls at Hodeida to ask GOC Turk 40th Division the best way home. They reach Constantinople on June 1, 1915.
Western Front
British War Council memo to Field Marshal French to consider possibility of stalemate and eventuality of seeking decision in fresh theater.
Aisne: ­Germans shell Soissons Cathedral and counter-attack unsuccessfully near city.
Politics
Britain: British reply to US note of December 26, 1914 published (sent on January 7): Copper reaching Germany via neutrals; limited rubber exports to the USA granted.
Austria: Foreign Minister Berchtold diary after audience 'Emperor [Francis Joseph] again complains greatly about the Germans …'.
Home Fronts
Germany: Falkenhayn attends gas shell tests southeast of Cologne.
Britain: King and Queen visit Indian wounded at Brighton (1st Indian Victoria Cross bestowed on January 26).