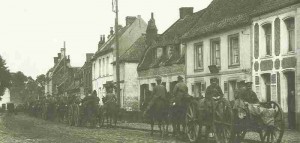 War Diary of World War One for Tuesday, October 13, 1914:
Western Front
Battle of Armentieres (until November 2). Allied offensive with Lieutenant B. Montgomery (1st Regiment Warwicks, 4th Divisions) who is twice capturing Meteren village in III Corps 5-mile wide advance northwest of Armentieres. Montgomery is promoted to Captain and awarded DSO. British II Corps get few gains for 700 casualties and lost Givenchy.
Flanders: British occupy Ypres. Germans take Ghent and Lille. Heavy fighting at Bethune­-La Bassee. BEF GHQ moves to St Omer. French 87th and 89th Territorial divisions, which sailed from Le Havre to Dunkirk, moving inland since 9000 hours to reserve positions west of Ypres.
Eastern Front
East Prussia: Germans recover Lyck.
Galicia: Battle of Chyrow (until November 2) begins in heavy rain, involves Austrian cholera-stricken Second and Third Armies against Brusilov's Third and Eighth Armies south of Przemysl.
Sea War
North Sea: First U-boat scare on Southampton-Le Havre troop transport route. Destroyer escorts provided from November 6 on.
3 Royal Navy submarines sail from Harwich to join Russians in Baltic Sea.
Home Fronts
Belgium: Government moves from Ostend to Le Havre.
Britain: Morning Post editorial 'The Antwerp Blunder' blames Churchill for the fall of the city, following a press debate.
Occupied Countries
Belgium: Germans levy £20 million on Antwerp.
France: General Heinrich Military Governor of Lille.