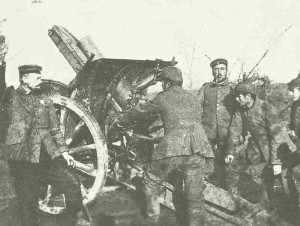 War Diary of World War One for Wednesday, October 21, 1914:
Western Front
Flanders: German attack on Dixmude fails (and on October 23); now 7 divisions attacking the Belgian sector.
Battle of Langemarck (until October 24): Haig's I Corps of BEF stands firm on line Zonnebeke-St Julien­-Langemarck-Bixschoote. Joffre visits Sir J French and King Albert, forbids former's Boulogne entrenched camp idea. Field Marshal French orders line held to be 'strongly entrenched'
Argonne: French recover some lost ground. Similar minor operations continue for 5 weeks.
Artois: German shelling destroys Arras town hall's 16th­-century belfry tower.
Eastern Front
Poland: Battle of Kasimiryev; Ruzski annihilates German Vistula bridgehead.
Sea War
North Sea: French lay first mines off Ostend, which the Allies bombard on October 23, to deter U-boats.
Adriatic: Modern Austrian battleship Radetzky sent to Cattaro where she disables 2 French naval guns on Mt Lovcen.