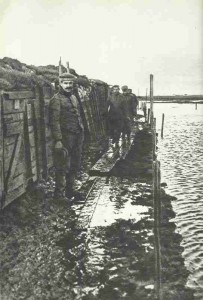 War Diary of World War One for Friday, October 30, 1914:
Western Front
Ypres: 2 British battalions repel German 40th Division (700 casualties) north of Armentieres, but Germans capture Zandvoorde and Hollebeke.
Champagne: ­French Fourth Army vainly attacks east of Reims until October 31.
Aisne: French 69th Reserve Division suffers 3,878 casualties by German attacks being pushed to just before Soupir-Vailly until November 2 on river and lost ground cannot be regained between November 6-12.
Yser: Germans assault Belgian line at 0630 hours capturing 2 villages, break Belgian 2nd Division but 4 Allied battalions penetrate back into Ramscapelle. Germans retreat next day, due to 2000­-3000 yards wide waist-high waters behind them, yielding Ramscapelle.
Eastern Front
Poland: Russians defeat Germans at Bakalaryevo.
Galicia: Brusilov takes Stanislau.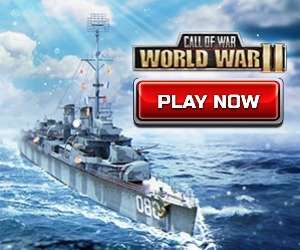 African Fronts
South Africa: Maritz's 600 rebel soldiers routed at Schuit Drift on Southwest Africa border.
Politics
Turkey: Allied Ambassadors present ultimatum at Constantinople, demobilize within 12 hours, dismiss all Germans, or face war with France and Britain as well as Russia.
Home Fronts
Britain: First Sea Lord Lord Fisher re­appointed (aged 74) replacing Prince Louis of Battenberg whose successful career is prematurely terminated by scurrilous public whispers and press campaign because of his German ancestry and supposed disloyalty to the crown.
Germany: War Ministry munition demands cut due to explosives' shortage. Unemployment down to 10.9%.
Neutrals
Italy: Cabinet resigns, Salandra stays Prime Minister. Finance Minister resigns over Army funds.