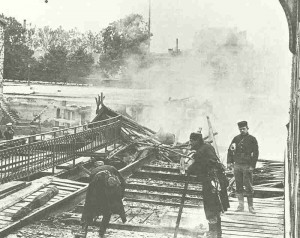 War Diary of World War One for Wednesday, October 7, 1914:
Western Front
Belgium: Evacuation of Allied forces begins. 4 German brigades cross river Scheldt and threaten their line of retreat but Belgians hold vital Lokeren railway junction until next day. 200,000 civilians try to leave city.
Flanders: French XXI Corps (detrained at Bethune) attacks German cavalry until next day, who are saved by XIV Corps (which came by trains from Metz).
German IV Cavalry Corps reaches Ypres outskirts.
Eastern Front
Galicia: Russians back on river San.
Carpathians: Russian raiders leave north Hungary, but are raiding again on October 10.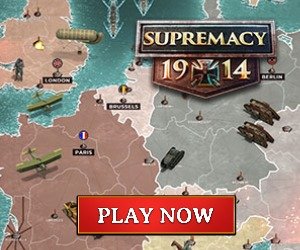 Middle East
Mesopotamia: Turk protests against Royal Navy ships in Shatt-al-Arab, but ultimatum expires without any action.
Sea War
Central Pacific: Japanese marines occupy Yap Island.
African Fronts
East Africa: 480 Germans with 6 MGs (31 casualties) attack Gazi, beaten by 850 British with 6 MGs (18 casualties).
Home Fronts
Austria-Hungary: ­Austrian subjects abroad suspected of working against monarchy will lose citizenship and families deported. Kronen has fallen by 9% against Reichsmark. Germany sends 100,000 Reichsmark per month in exchange credit for duration of war.