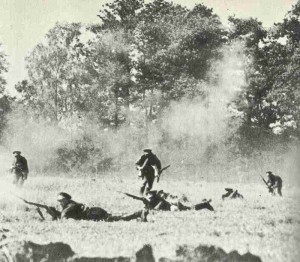 War Diary of World War One for Sunday, September 13, 1914:
Western Front
Aisne: Main body of BEF and parts of French Sixth and Fifth armies cross the river and up to 7 miles (ca. 11 km) beyond. Germans escape disaster by an hour: 10-mile gap between Kluck and Bülow's armies north of the river, just closed by arrival at 1430 hours of XV Corps from Alsace and VII Reserve Corps after a 40-mile march in 24 hours from Maubeuge. Only Conneau's Cavalry Corps succeeds in entering the gap, but quickly retires.
Falkenhayn (new German CoS) can now discard his worst case plan to withdraw 40 miles (ca. 64 km) further north to line of river Oise. French reoccupy Soissons and Amiens.
Eastern Front
East Prussia: Russian rearguard delays German pursuit at Vilkoviski, moves back over border, but is destroyed there.
Southern Fronts
Albania: Italian troops land at Valona, an Adriatic port.
Far East
Tsingtao: Japanese seize Kiaochao railway station; China protests.
Southwest Pacific: ­Australians occupy Bougain­ville in Solomons.