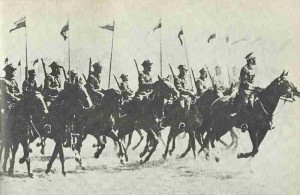 WW2 War Diary for Saturday, September 9, 1939:
Poland
BATTLE OF THE BZURA: major Polish counter-attack across river Bzura, West of Warsaw, develops into the largest battle in the campaign (ends September 15).
4th Panzer Division attempts to storm Warsaw outer defenses but loses 60 tanks.
Polish CinC, Marshal Smigly-Rydz, sends desperate appeal to General Gamelin, French CinC, for decisive action on Western Front.
Sea War
First BEF troop convoy crosses English Channel (at night).
Home Fronts
France: Identity Cards made obligatory.
Germany: Göring broad­casts: scoffs at RAF leaflet raids and calls for Anglo-German peace agreement.