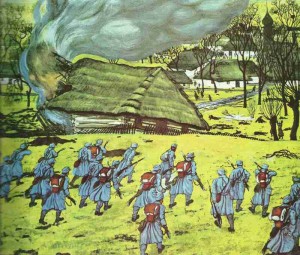 World War One Diary for Wednesday, August 12, 1914:
SOUTHERN FRONTS
AUSTRIAN INVASION OF SERBIA:
Advancing across the border into Serbia from the north and northwest, some 200,000 Austro-Hungarian troops led by General Oskar Potiorek invade. Although outnumbered, the Serbians forces under Marshal Radomir Putnik put up stout resistance.
Austrian 44th Infantry Regiment (31st Division) capture Sabac (1 Serb coy) across river Sava after 0315, kill male population, massacre children and rape women; repel 2 battalions and 2 cavalry squadrons at noon. Austrian 29th Division captures 3 villages near Mitrovica to West. On Austrian 5th Army Drina front, in dawn attack, VIII Corps (25,000 men and 96 guns) takes island north of Janja by noon but XIII Corps repulsed by 2 Serb coys from island to west of Krupanj though its 42nd Honved Division crosses and bridges Drina.
WESTERN FRONT
Belgium: 10,000 Germans take Huy. Two 16.5-in (420 mm) Krupp howitzers pound Liege forts from 1740. Kitchener reluctantly agrees to forward BEF concentration around Maubeuge. Belgian dismounted cavalry repel German cavalry attack on Haelen (Gete line)
France: French concentrate 37 Territorial and reserve divisions using 4500 trains (until August 18).
Germany: Kluck's 1st Army begins marching from around Jülich and Krefeld.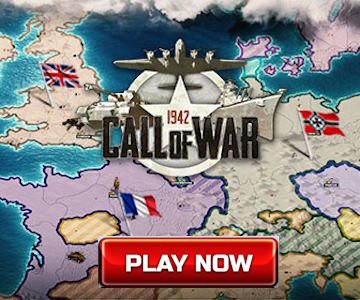 EASTERN FRONT
East Prussia: Gourko's 1 st Cavalry Division crosses frontier and takes soon evacuated Marggrabowa.
Poland: Samsonov reaches 2nd Army HQ at Warsaw.
AFRICAN FRONTS
Togo: Soldier Alhaji Grunshi from Gold Coast Regiment fires first British shot of World War One near Togblekove.
Southeast Cameroon: 600 French occupy German Fort Mbaiki.
Tripolitania: Colonel Giannini's Italians occupy Ghat, oasis town 600 miles (ca. 966 km) from coast.
AIR WAR
Western Front: First German pilot killed on active service: Oberleutnant Jahnow, a 1912 Balkan War pilot in Turkish service, killed in crash near Malmedy. French reconnaissance units suffer first fatal casualty, Sergeant Bridou crashes on return to base. First British airmen die on active service: 2nd Lieutenant Skene and Mechanics Barlow of No 3 Sqn RFC killed in Bleriot 2-seater crash near Dover en route for France.
POLITICS
Britain: The government declares war on Austria-Hungary.
HOME FRONTS
Britain: 'Punch' magazine's 'Brave Little Belgium' cartoon.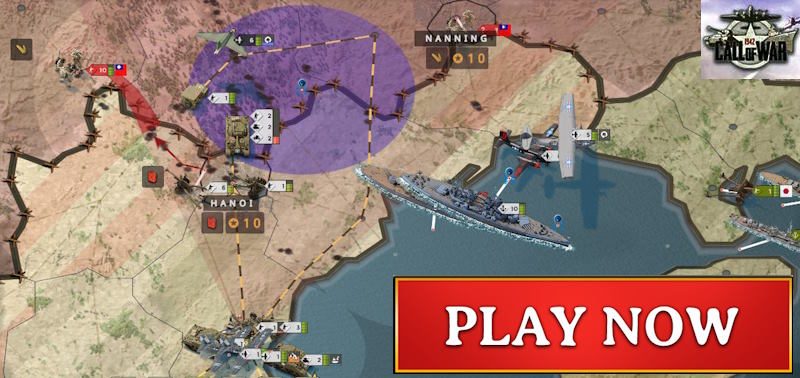 NEUTRALS
Portugal: Anglo-Portugese commercial Treaty.