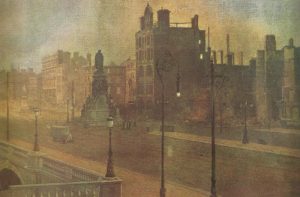 Diary for Wednesday, April 26, 1916:
Sea War
Irish Sea: British gunboat Helga destroys Liberty Hall, Dublin during Easter Rising.
Middle East
Mesopotamia, Kut: After Kitchener cable authorizes talks, Townshend letter asks for 6-day armistice and 10 days food while surrender agreed. Garrison starts destroying anything of value.
Air War
Eastern Front: Zeppelin SL7 raids Dünamunde (Wenden on April 28) and German planes Dvinsk (Zeppelin LZ86 raids its railways on April 28 and Rieshiza on April 27).
Politics
Sykes-Picot Agreements for Franco-Russian partition of Asia Minor
Germany: Anglo-German PoW exchange via Switzerland signed in Berlin (signed in London on May 13).