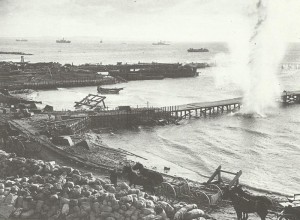 Diary for Wednesday, April 28, 1915:
Middle East
Gallipoli – First Battle of Krithia: 14,000 Allies advance 2 miles (3,000 casualties). Anzac troops: 2 Royal Marines battalions to reinforce.
Yemen­: British treaty with Chief Idrisi against Turks.
Western Front
Flanders: German guns near Dixmude shelling Dunkirk.
Champagne: Germans storm French position at Les Mesnils.
African Fronts
Southwest Africa: Botha resumes advance.
Southern Tripolitania: Senussi rout Colonel Miani's 3,750 troops, gaining 5,000 rifles, 8 guns and MGs near Sidra.
Air War
Western Front: Captain de Bernis (pilot) and Sub-Lieutenant Jacottet (observer) in Esc MS 12 Morane 'Parasol' shoot down an Aviatik with rifle fire, south of Reims.
Germany: French MF29 bomber unit raids Friedrichshafen.